Today's top ten is dedicated to the past two weeks of the Summer Olympics. I give to you, the ten coolest things I saw during the Olympics.
10. USA Men's Basketball's Performance vs Nigeria
That was an amazing display. When a team shoots 70+ percent from the field and breaks about a dozen records, you can't help but be proud. Look, I understand that Nigeria was new to the Olympic basketball front, but they chose to have 5 dudes crash the boards and leave a USA player free to the basket. The point is, that an awe inspiring performance.
9. McKayla Maroney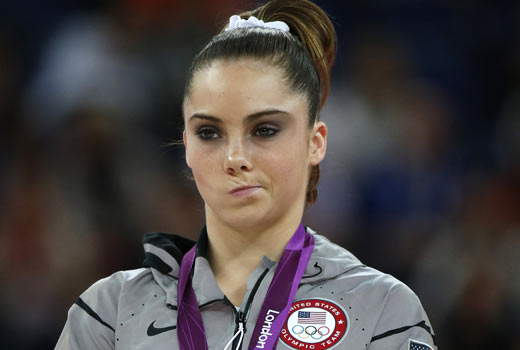 The face that can launch 1000 memes.
Her skills on the vault were amazing. However, the coolest thing about her was her amazing non-impressed face that has become an Internet sensation. Sad that she didn't win the gold medal in her signature event, but she's still amazingly good at the "I couldn't care less" face.
8. The Jamaican Sweep in the 200 Meter
I really don't know why I loved it considering it meant knocking out Americans, but for some reason it was just cool to see. I mean Jamaica is a very small country. Not a lot of money outside of the resorts that people win trips to on The Price is Right. It was cool to see their joy and excitement
7. Kayla Harrison
Up until her, no American had ever won a gold medal in Judo. She changed that. It was awesome to watch her joy as she realized just how big it was. It was also just as awesome to see her thankfulness to her coaches and support team. You want to see that from champions.
6. Jordan Burroughs and Jake Varner
These are the guys who won gold for USA in wrestling. After Kurt Angle won the gold in 1996, there have been a lot of high expectations for US Wrestling. The fact is, there is a lot more dedication from other countries in wrestling. When I see an American wrestler win, I get excited. I think it's because wrestling is one of the purest forms of combat. Two guys grapple until one is victorious. It goes back to biblical times. It's amazing to watch.
5. Allyson Felix and Sonya Richards-Ross
How amazing was it to see them finally win their individual gold medals. All that disappointment finally cured. What a feeling to watch it happen.
4. USA Swimming
How awesome was it to see our nation dominate the swimming. Michael Phelps and Ryan Lochte were the main players, but so many other swimmers did so well. I was pretty proud to watch it. If only I knew how to swim, I'd probably appreciate it more.
3. Michelle Beadle
SportsNation is nothing without her
She was anchoring the NBC Sports Network's morning coverage of the games. I love that woman, I'd marry her. She likes wrestling. She loves Brett Favre. She loves sports. Plus she's mad cute. Come on.
2. Lolo Jones
Yeah, she's cute
A lot of people have questioned her dedication to the sport of track and field. Did it ever occur to anyone, particularly the two Americans who criticized her, that maybe they were just better that day? It happens in sports. Sometimes, the better man or woman wins. It's not fair to question someone's heart and determination just because they happen to be a little more attractive than you and get more endorsements. We're a visual society. We appreciate a pretty face. I know I sure do.
1. Gabby Douglas
Just read this.
I don't have to say anything, just read the quote and you'll see why she's number one on my list of the best things about this year's Olympics.